Northeast Document Conservation Center's Audio Preservation Lab Presents the I.R.E.N.E./3D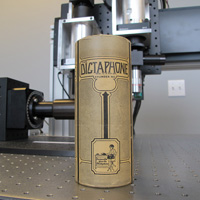 Dictaphone wax cylinder package.
Image courtesy of the NEDCC & Middlebury College Special Collections.
(Click on the article title to be taken to the blog and LISTEN!!!)
So cool!

This is a HUGE step for preservationists as these cylinders have always been a super fragile technology with limited usability due to cost for equipment to play them on, dangers of heat/pressure damage, distribution costs (it costs more if you have to package them specially against breakage), limited playings (because the more you play/handle them, the more they get scratched/melted), etc.

And don't forget to share – a way too awesome example of a technological advance gone right to not spread the word!