Some of my friends and family were shocked about my adding 'for real' photographs of my home.
I say, what better way to demonstrate just what 'at-home' is all about? This is a process blog, not a finished project blog!
Not one staged, renovated, picked up, or even cleaned room in the bunch. (Of course, I hope the next tour or home project shoot will show some progress!)
If you are a floor plan person like I am, then let me describe what you are about to see. We have a tri-level with a walk-out basement. I'm starting at the Front Door and working my way left-to-right. Starting on main level, then upwards to hit the master (topmost level), then down to walkout level (bottom most level), then back to main level to finish.
Apologies for the length of the post, but I'm having troubles with the photos sitting side-by-side in the layout.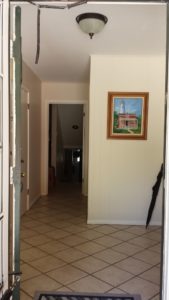 Foyer – looking in
Foyer – looking out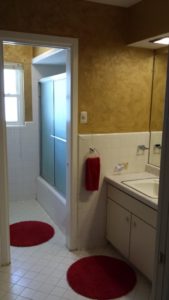 Visitor Bathroom – the gold walls
date to previous owners. Not our
first choice, but we're making it work!
Upstairs/Downstairs
Master Bedroom – those avacado green and
dusky pink blinds date to prior owners
Master Bathroom – that vanity cushion
color WILL be changing
Master Bath – looking
in from vanity area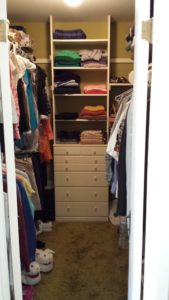 Master Closet – check out that carpet. Dates to prior owners.
Not just shag, avocado green shag. Groovy, baby!
Guest Bedroom – aka my sister's storage area
(the love seat and one closet is hers.)
Guest Bedroom – Two closets!!
(Again, one is hers, one is ours)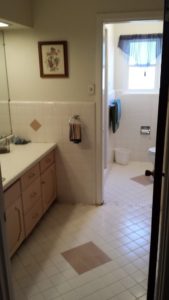 Guest Bathroom
Hallway of Closets –
look at all those closets on the left!
Hallway of Closets –
Holiday Decorations Closet
My Office – and current dumping ground for anything labeled
"I don't know what to do with now, but it will be useful some day."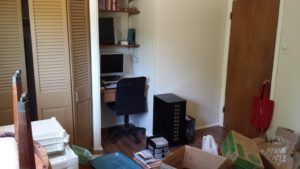 My Office – looking toward door
TV Room
TV Room – looking down
Back on the Main Level…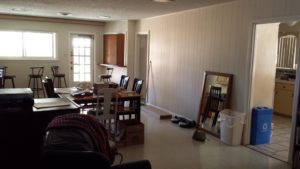 The Great Room – looking toward kitchen (foreground)
and wet bar (background)
The Wet Bar – note to self, very difficult
to take non-blurry photos of glass!
The Great Room – looking toward TV Room (downstairs)
The Great Room – looking toward library
Kitchen
Kitchen – looking to sink and front of home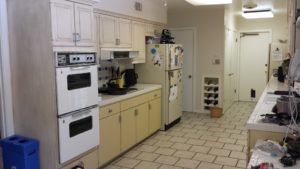 Kitchen – looking to stovetop and Great Room
(Wet Bar door in left background)
Laundry Room –
and 3 boxes for the cats!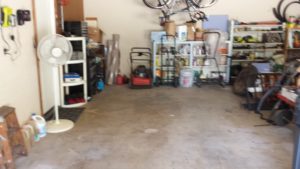 Our Garage – to be honest, I cleaned this half
for my hubby to park in last month!
And that's it for the first tour of our home. Keep checking back to see how I've fixed, renovated, replaced, and just plain old 'made it work' to make our house "at-home"!